Yes, I went to Chicago last weekend and spent two nights in the city and another in Geneva, where I helped my friend Chris on the expansion project for his family's bar/restaurant. It was good to get away from the squalor, to get out and explore, to take a mini-vacation on the cheap. Of course, I took a bunch of pictures. Here's a link to all of them:
http://s60.photobucket.com/albums/h9/greglocascio/Metra%20North%20Shore%20trip/
Here's a few of my favorites:
This is the first time I got to take my bike on the train. The last two times I rode Metra were during big events, the Chicago Blues Festival in early June and the Taste of Chicago from June 29 - July 9. Metra doesn't allow bikes on trains during peak travel times.
The Chicago Botanic Gardens would have been more enjoyable without a withering, nearly 100-degree heat. Still, I enjoyed the Japanese and English gardens. One for its semblance of wildness, the other its nature-inspired order.
On Sunday, en route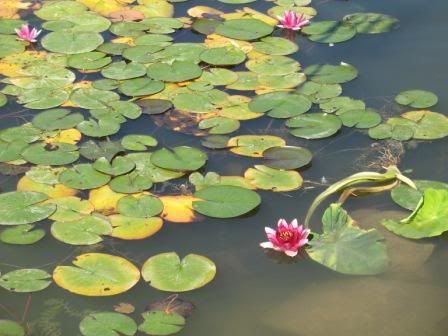 to Illinois Beach State Park, I was dropped off in Waukegan because the train only goes further north to Zion, Winthrop Harbor and Kenosha, WI in the morning and evening. As I rode through Waukegan's historic district I remembered science fiction writer Ray Bradbury grew up here. He wrote a semi-autobiographical book about his childhood,
Dandelion Wine,
that I read the summer after I graduated from high school. In the book, Waukegan is called Green Town, IL. I remember a ravine is mentioned in the story. The main character, Douglas Spalding, finds a dead body there. Just as I remembered this, I rode past a ravine. There's a few of them right off Sheridan Road, and they are dark, forbidding, primeval, forgotten places surrounded by houses and suburbia.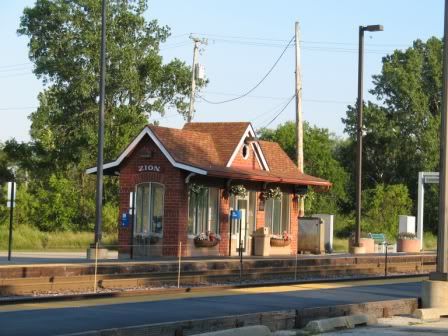 I rode around the state park until I couldn't stand the heat anymore, then hung out for a couple of hours near the water. My method for staying cool: stay in the lake until I'm shivering cold, then go back and lie down. Lie down until I'm too hot and/or the bugs start biting, then repeat step one.
Monday and Tuesday I worked for my friend Chris Arbizzani. His family is expanding their bar/restaurant into the building next door, and Chris asked me to help out doing manual labor tasks either too dirty or tedious for he and his brother John to handle. Monday I dug a six-inch deep hole beneath the floorboards in a 6-by-3 foot area. I had a huge pile of rocks and dirt to show for my efforts. Tuesday I also dug a trench for the tap lines running from a keg fridge to the location of the soon-to-be bar.
Luckily, the space we worked in was air-conditioned, and Chris treated me to good food from the restaurant for lunch both days.