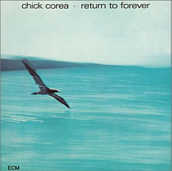 Chick Corea -- Return to Forever
(ECM 1022 78118-21022-2)USA 1972
Chick Corea, electric piano; Joe Farrell, flutes, soprano sax; Flora Purim, vocal, percussion; Stanley Clarke, electric bass, double bass; Airto Moreira, drums, percussion
Tracklist:
1. Return to Forever — 12:06
2. Crystal Silence — 6:55
3. What Game Shall We Play Today — 4:26
4. Sometime Ago - La Fiesta — 23:18
total time 46:51
Return to Forever holds a very special place in my musical pantheon because it was released the year I was born has been a part of my life since childhood.
I first listened to this album when I checked it out from North Suburban Library in Loves Park, IL, when I was a kid. I liked the cover, which features a seagull flying across the ocean, and then fell in love with the electric piano stylings of Corea. The sound on these tracks tread that thin nether region between festive and contemplative. I put this album on when I'm in a good mood, and after a difficult day when I want to escape to another world.
In 1989 I played "La Fiesta," or at least the bass part, as a member of the Phantom Regiment Cadets. It is one of the toughest bass parts I've ever played, and to this day, especially when exercising, I'll play my part over and over again in my head. York F. and I were the only two contra basses in the corps, and we worked our asses off in sectionals to get it right. It's an awesome Latin groove.
This album kicked off my interest in jazz fusion, that marriage of jazz and rock in the early 1970s oft-vilified by jazz purists. Return to Forever led me to Weather Report, Bitches Brew era Miles Davis, Mahavishnu Orchestra, Billy Cobham, Carlos Santana and Herbie Hancock.
The title track, Crystal Silence, begins with two notes spaced a fifth apart, on that delicious, almost vibraphonic electric piano. The song has two movements that begin slow and contemplative, then kick out the jams. My only complaint is Flora Purim's vocals, which can be distracting and lyrically hoaky (Sometime ago/I had a dream/ It was laughing/ It was happy/ It was free).
This album should be played after dinner on Friday nights, after a night out on the town, Sunday mornings and anytime when studying. Below are some other reviews more erudite than my own.
From
Ground and Sky reviews
Regardless, this ECM release is amazing, and with its extended, structured compositions presents another blurring of the line between fusion and progressive rock. It is more "organic" sounding than later RTF efforts, with a sparse but intimate electric piano/winds/vocals/drums set-up. This album could be a rare instance where we might actually catch Brazilian percussionist Airto Moreira behind a traditional drum kit, and whether that is indeed the case or not, boy does he deliver, informing with powerful, celebratory samba rhythms. The title track that opens the album is a sort of mini-Pictures at an Exhibition, with two highly melodic, intense jams bordered by an uneasy, ghostly "Promenade"-type theme. As you would guess, "Crystal Silence" is delicately executed, and even "What Game Shall We Play Today," with its cliched lyrics and obvious attempt at accessibility, still manages some neat interplay and chord progressions that one wouldn't expect in the typical pop songs of the day. The final track, "Sometime Ago - La Fiesta" drives the entire thing home, with a captivating vocal performance from Flora Purim and a frenzied Latino closing. Superb musicianship on all parts (especially Corea) makes this one deserve to be in every fusion fans collection without a doubt.
Unlike the rock-oriented subsequent lineups of Return to Forever, the original group played a fusion of jazz and Latin music that doesn't sound as dated. Corea's electric piano is the dominant sound on the album, but apart from some occasional plugged-in bass the record is otherwise acoustic. Pairing the acoustic instrumentation with Corea's electric piano and Stanley Clarke's lightning-fast bass gives the music a character that is both organic and futuristic; with material that sometimes exhibits a strong Latin influence, the effect can be a thoroughly engrossing contrast. The exuberant, "La Fiesta," for example, could be arranged for a more traditional ensemble of horns and a nylon guitar and those south of the border would be none the wiser. The chilly sustain of the electric piano, however, adds an opaque modern monochromaticity and the keyboard's inherent potential as the ultimate improvisational tool enables Corea to give the music a superior level of melodic and harmonic sophistication. The influences are thus transcended and the result is something new entirely.
The other tunes — and these are tunes, not just jams — are more atmospheric, though no lesser of achievements. "La Fiesta" may be one of the most irresistibly melodic fusion songs ever recorded, but the title track is my favorite piece by this configuration of Return to Forever. Corea lays comparatively low on much of the track, playing repetitive clusters that, complemented by the steady force of Stanley Clark's wicked, trebly bass pattern, Joe Farrell's flute and Flora Purim's ghostly vocals, creates a simultaneously creepy and pretty sound that is almost Krautrock-like. "Crystal Silence" is a drifting meditation between Corea and Farrell (now on soprano sax) that equals the best of similar efforts from Joe Zawinul and Wayne Shorter in Weather Report. "What Game Shall We Play Today" is a melodic, breezy vocal tune made all the more appealing by the context of the rest of the album, as it demonstrates how easily the band's approach translated to the format of a more conventional pop-song. The medley "Sometime Ago/La Fiesta" is a great 23-minute excursion that brings the album to its conclusion. "Sometime Ago" begins slowly, with Corea's sparse keyboard phrases providing the backdrop for some excellent acoustic basswork by Stanley Clarke. Clarke's plucking becomes faster and more intricate, building tension before switching to a frenzied bowing. Then there's a lull and Corea introduces the song's melody — a total change of pace, but a turn that follows logically from the construction of the previous portion. This part of the song is a samba-inflected vocal tune, though more in character overall with "Return to Forever" than "What Game Shall We Play Today." Corea improvises lightly over the melody and eventually segues into the thrilling "La Fiesta," which piles melody and improvisation on top of each other to build an impressive crescendo.
From
an NPR transcript from Aug. 1, 2000, from the Basic Jazz Record Library
A.B. SPELLMAN, National Endowment for the Arts: Murray Horwitz, this is Chick Corea in 1972 -- a transitional period for jazz, is it not?
MURRAY HORWITZ, American Film Institute: "Transitional" may be a kind way to say it, A.B. It's not what you'd call the golden age of jazz in America. But it might have been the beginning of a golden era for the influences of world music on jazz, and jazz becoming much more of an international art form.
SPELLMAN: Yes, and we also had electronic instruments coming into it. Every age makes its own instrument and the previous age puts them down, I've found, but here we have Chick Corea on a very great electric piano record.
HORWITZ: It's true and it's electric piano is not used in any way as a gimmick but really fits the musical mood of this CD.
[MUSIC]
HORWITZ: In the early '70s, there was a lot going on in music. There was rock and roll, there was the sort of long solos you got in avant garde jazz, and there were weird things happening in classical music. There was a lot of electronic music and new production techniques in pop music. And there were all these attempts to synthesize all this, and this CD is one of the most successful -- I'd argue fully successful. The CD is Return to Forever.
MUSIC
SPELLMAN: Chick Corea seems to have chosen some musicians of disparate backgrounds, but who were all masters in their medium or in their styles, is that not so?
HORWITZ: And some of them were very young masters. There was Stanley Clarke, the bassist, who had played at the age of -- I'm not certain of this -- eighteen or something with Stan Getz. There's the incredible virtuosic Latin-American percussionist Aerto Morera, and the Brazilian singer, Flora Purim. And from the United States, the saxophonist and flutist Joe Farell.
[MUSIC]
SPELLMAN: Now, this record has what as its quality? What do people listen for here?
HORWITZ: A.B., I think that it has to do with what we talked about briefly: the synthesis. The fact that in Chick Corea, there was a compositional sensibility that could pull all these things together, but always with a terrific rhythmic pulse. I mean, people can argue. Does this swing? Does it rock? Does it do neither? Something is going on rhythmically that keeps the whole thing together at all times. And it works all the way through in a variety of grooves, including the terrific--I guess I'll call it a "Latin number" -- "Fiesta."
[MUSIC]
SPELLMAN: The selection that we are recommending for your Basic Jazz Record Library today is Chick Corea's Return to Forever. It's available on ECM Records.